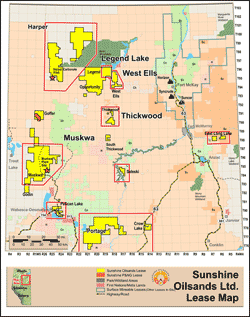 Click to enlarge
Sunshine owns and controls 100% of 467,969 hectares of leases (including 460,000 hectares of Oil Sands Leases and one PNG License equal to 36 sections or 3.072 hectares) (approximately 1,200,000 acres of leases) and holds approximately 7% of the allocated oil sands lease area in that region.

Sunshine holds a premier land position that includes eight primary operational areas and has the expertise to extract significant value from its assets. Its principal operating regions in the Athabasca area are at West Ells, Thickwood, Legend Lake, Harper, Muskwa, Goffer, Pelican and Portage.
Cretaceous Sandstone
Sunshine is commencing its initial Cretaceous sandstone development construction, unlocking what Management anticipates to be an important area of focus for rapid SAGD oil sands production. This development will be executed in modular and scalable phases to manage project timing and cost pressures and to take advantage of evolving recovery technologies. On the basis of our management assumptions, we expect our Base Case Clastic Assets to have a total productive life of 55 years.
The Company estimates that the recovery rates for these assets will be greater than 60%. These assets are characterized by an expectation of reliable and predictable results due largely to the homogeneity of our large deltaic deposition reservoirs.
Application Updates
Carbonates
Sunshine continues to explore and delineate its vast carbonates resource. Our carbonate holdings of ~46 billion barrels of PIIP (Petroleum Initially In Place) hold the potential to provide significant upside as commercial extraction technologies emerge. Our Management team is advancing our Carbonate development plans and the Company will have a Carbonate Commercial application submitted in 2015 and will realize commercial production from our carbonate assets in 2017, if not earlier. Sunshine's staff possesses strong technical and operational experience in planning, modeling and successfully executing carbonate thermal recovery programs.
The Company's Harper pilot is a first step in development of these lands as we initiate activity in the region. The initial pilot proved mobility and provided data on thermal responses of the reservoir. Sunshine will be submitting more carbonate pilot applications for our other carbonate formations.
Application Updates
Conventional Heavy Oil
The Company is currently producing conventional heavy oil from its Muskwa property and Management estimates that production will increase with further development of the Muskwa property.
Recovery Scheme Approval Updates