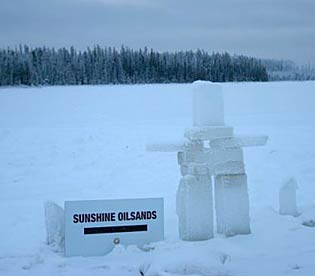 Our ultimate goal is to deliver maximum shareholder value. We will use our oil sands knowledge and business experience to realize the potential of our significant oil sands land positions.
Assets
One of the largest land holdings in the Athabasca Region with approximately 1,200,000 acres
Portfolio consists of multiple asset groupings
Cretaceous Sandstone - high value, medium term SAGD assets
Carbonates - substantial long term value asset
Conventional Heavy Oil - short line of sight to cash flow
Thermal recovery only, no mining of resources
No tailing ponds or mining pits
Long term water source is brackish, sourced from deep geological formation
People
Proven track record of execution with other successful companies (Rally Energy, Deer Creek, Connacher, Flint)
Divisional leaders in place
Proven operations experience in numerous hydrocarbon plays including conventional heavy oil, cretaceous sandstone and carbonate reservoirs
Capital Structure
Listed on the Hong Kong Exchange on March 1, 2012 and the Toronto Stock Exchange on November 16, 2012 and supported by strong Asian investment demand – Sinopec, China Investment Corporation, Bank of China, China Life, EIG, Cross Strait – as well as significant North American investment support.
Resources
Tremendous upside potential
After completion of the 2012 second-half drilling and seismic programs related to construction at the West Ells Commercial SAGD project and completion and continued progress at the Thickwood and Legend Commercial SAGD projects, the reserves and resource evaluation completed by independent evaluators, effective Dec. 31, 2012, resulted in approximately 70 billion barrels of best estimate PIIP (Petroleum Initially In Place); approximately 5.1 billion barrels best estimate contingent resource with an aggregate pre-tax PV10% value of $10.3 billion (an increase of $3.4 billion); 80 million barrels of 1P (proven) reserves with an aggregate pre-tax PV10% value of $363 million (an increase of $49 million); 446 million barrels of 2P (proven plus probable) reserves with an aggregate pre-tax PV10% value of $990 million (an increase of $72 million); and 605 million barrels of 3P (proven plus probable plus possible) reserves with an aggregate pre-tax PV10% of $1.66 billion.
Long term production growth
Management currently estimates production capacity potential of 1,000,000 bbl/d from its cretaceous sandstone areas and carbonate formations. The Company is currently producing conventional heavy oil from its Muskwa property and Management estimates that production will increase with further development of the Muskwa property.